Rankings & Exemptions
_______________________________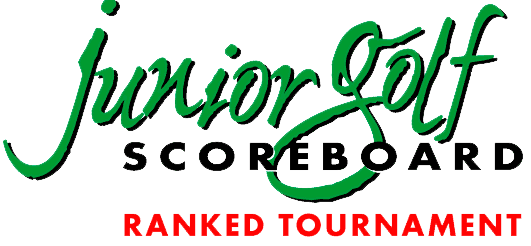 Junior Golf Scoreboard Rankings
Get noticed and climb the ranks! All of our multi-day events are ranked by the National Junior Golf Scoreboard (JGS) as long as a Division completes 36 holes and a minimum of 5 competitors finish the event from the same tees, it will be JGS ranked. Some tournaments may have both the 13-14 and 15-18 play from the same set of tees.
To learn more about eligibility and how the rankings are computed, visit njgs.com

Trophies & Year End Awards
All multi-day tournaments feature awards for 1st, 2nd, and 3rd place in each age division, regardless of field size. Our "1&done" single day events feature a framed award for 1st, 2nd, and 3rd place in each age division.
If you win an event on the PJGT in 2019, you will automatically earn an exemption into the 2019 Premier Tour Championship.
At the end of each year, at the Tour Championship, year end awards are given out. A player of the year is crowned in each multi-day age division (the player of the year is the player who has earned the most points throughout the year AND is present at the Tour Championship). Other year end awards are also given out at the Tour Championship, the awards vary from year to year. Also, 1&Done awards will take place.
Point System
Players earn points for their multi-day tournament finish by division as follows:
| | | | |
| --- | --- | --- | --- |
| Place | Points | Place | Points |
| 1st | 1200 | 13th | 170 |
| 2nd | 1000 | 14th | 150 |
| 3rd | 800 | 15th | 130 |
| 4th | 600 | 16th | 110 |
| 5th | 500 | 17th | 90 |
| 6th | 400 | 18th | 70 |
| 7th | 350 | 19th | 50 |
| 8th | 300 | 20-25 | 30 |
| 9th | 250 | 26-30 | 10 |
| 10th | 230 | 31-35 | 8 |
| 11th | 210 | 36-40 | 6 |
| 12th | 190 | 41st... | 3 |
Note: points are doubled for Major Championships and other special events (Match Play Championship, Tour Championship, etc.).
Ties
If three players each tie for first place in score, they would each earn the points awarded a first place finish. The play-off system is used to determine who has earned the 1st, 2nd and 3rd place trophies.
Age Divisions & Points
For the 2019 Points Year, which runs from Oct. 22, 2018 - Dec. 1, 2019, your age on the final round of a tournament will determine the division you will play in for that event. In the case of a birthday moving you into a new division during the course of the points year, you may wish to play up a division early on if you are vying for year end honors or Player Of The Year for a division. Please know that points earned in a division won't transfer to another division.
Note: If you turn 19 years old in 2019, you can still play with Premier, but you'll play on our new Adult tour, which offers both one day net events and two-day gross events. Visit www.premiergolftour.com to learn more, and as always, feel free to email or call us with any questions!
Year-End Points Rewards & Recognition
Points earned in 2019 will accrue for rewards and recognition throughout the year. First and foremost, the points leader in each multi-day age division will be awarded Player of the Year at our year-end Tour Championship, which will be conducted December 14-15, 2019. Must be present at the Tour Championship. Each Age Division Points Champion will receive a customized embroidered golf bag with Premier's logo, and Champion on it. Play often and WIN! 1&Done awards will also be awarded at the Tour Championship. Since there is no points system for 1&Done's for 2019, Premier will be announcing how year-end awards will be awarded.